It's one of the "bear" necessities of life.
A photographer has captured remarkable images of a mother grizzly bear teaching her young cub how to scratch its back in Canada, reports South West News Service, a British news agency.
German photographer Marion Vollborn took the incredible photos at Taku River in Northern British Columbia, noting that she never expected to see the heart-warming interaction between a mother and child, reminiscent of a scene from the 1967 Disney movie "The Jungle Book."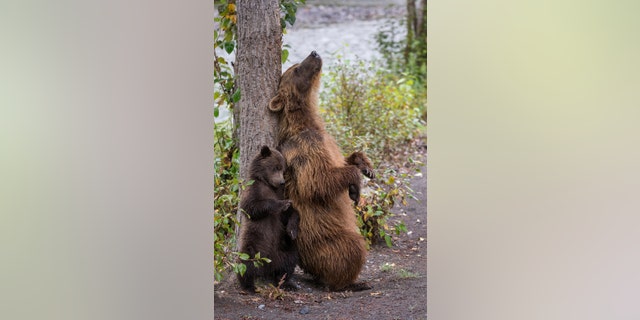 A mama bear teaches her cub to scratch its back on a tree near the Taku River in North British Columbia, Canada. (Credit: SWNS)
POLAR BEAR SPOTTED DOING YOGA POSES IN THE ARCTIC
"I went to photograph the bears and I travel to Canada once a year to photograph them," Vollborn said in comments obtained by SWNS. "I've pictured bears before but I didn't expect a mother to get so close to me with her cub. I felt incredibly honored and grateful to be able to experience such an intimate moment.
"I never once felt threatened," Vollborn added.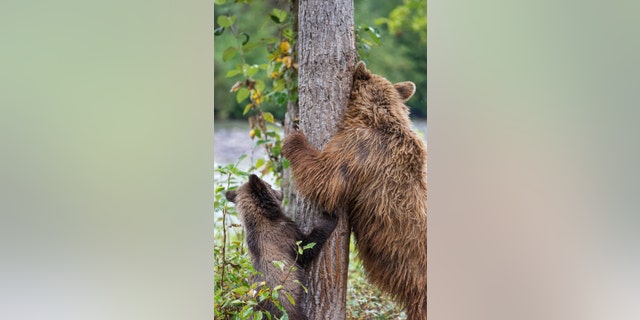 This is the adorable moment a mother bear shows her young cub how to scratch its back against a handy tree. (Credit: SWNS)
Vollborn, who has been photographing nature for 10 years, said she believes the cub is definitely a newborn, possibly as young as "five months old."
The simple bare necessities, indeed.